Teacher goes Bananas raising £1000 for School!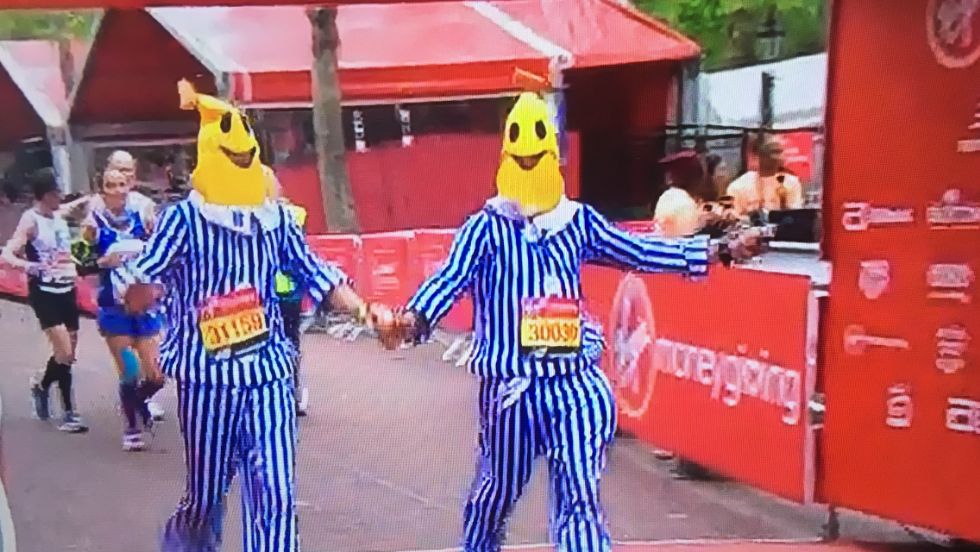 he Bananas in Pyjamas didn't have any stairs to climb on Sunday but they did have 26.2 miles to run!
Dressed as the Bananas in Pyjamas, teacher Tom Brown and his friend Andy Massingale ran the London Marathon, finishing with an impressive time of 3 hours 39 minutes, to raise funds for Woodlands Meed School and College in Burgess Hill.
Tom is the Maths Lead Teacher at Woodlands Meed Special Needs School and College and he took on the challenge to fundraise for Woodlands Meed to help raise money to fund equipment and projects to help the pupils achieve their best.
Tom commented on his achievement and motivation to take on the challenge 'It was one of the best experiences of our lives. It was amazing. The support from the crowd was incredible. We were cheered all the way, singing the theme tune and shouting "Go Bananas!". We high fived thousands of fans and their energy and positivity made it a day we will never forget.'
'I still Can't believe the coverage we have received, Morning TV, BBC highlights, Daily Mail online and Sky news to name a few. We can't wait to do it again and make it an official world record next year. '
'working at Woodlands Meed can be hard but it's an extremely rewarding job. It's a pleasure to say I work here and that I get the opportunity to work with and teach a number of amazing children and young adults. The pupils greatly benefit from the wide range of expertise, equipment and resources which help stimulate and motivate their learning. I am delighted to have been able to raise money to help support this and provide our pupils with the opportunity to be able to achieve their best.'
You can make a donation to Tom's Just Giving Page at https://www.justgiving.com/fundraising/tom-brown46