Get Caught Reading Week
We have had a fabulous Get Caught Reading week with many different events and
activities going on to celebrate the enjoyment of sharing stories. Activities have included
dressing up as book characters, making and sharing stories, bringing in favourite books to
share, joining in a Sensory story session, reading in the park with other children from
Burgess Hill schools, having visitors in to share books with us, and of course the yearly "who
is reading in the light box" quiz. The children (and staff) have had a fabulous week and
have really benefitted from enjoying all aspects of reading in a positive and all embracing
way. Thanks to all the staff for their hard work in making all this possible.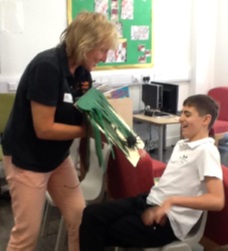 Robin class enjoyed dressing up as story characters and Owl class enjoyed the visiting sensory story teller from Bag Books.