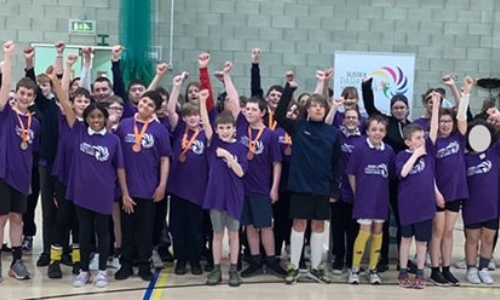 Woodlands Meed compete in the Parallel Youth Games 2022 ​​​​​​​
Published 13/05/22
Wednesday 11th May saw 39 Woodlands Meed students and 12 staff travel to The K2 in Crawley for the annual Parallel Youth Games. The games are disability event for all Schools across Sussex to come together and compete and try new challenges.
One of the highlights of Woodlands Meed's sporting year - everyone arrived at the event full of excitement to compete in a range of sports including Boccia, New Age Kurling, Street Football, Cricket, Golf, Swimming and Tennis.
A group of students also represented Woodlands Meed in 'Dance' where they learnt and practiced a dance routine with students from other schools which they then performed to everyone during the closing ceremony.
Olympian Montelle Douglas gave an inspiring speech before the Parallel Youth Games started. Montelle Douglas is the only British athlete to have represented team GB at both the summer and winter Olympics in sprinting and bobsleigh respectively. Her motivating speech set the tone for the whole day as students rose to the occasion; trying harder, running faster, throwing further, swimming quicker, and executing skills with greater accuracy and all the while with massive smiles on their faces!
There was success all round with medals won in the pool, Boccia, New Age Kurling and (for the first time) on the tennis court! The golfers did Woodlands Meed proud, finishing a very respectable fifth and only a few points outside of a bronze medal position. The Cricket team's sterling effort saw them finish fourth. Whilst there was initially heartbreak during the street football competition with Woodlands Meed missing out on a bronze medal during a sudden death penalty shoot-out, an English team going out on penalties - We've been here before! all five of the team should be immensely proud of how they have played in a very tough and talented competition. Lastly, our dancers, who had spent the day learning and rehearsing a fantastic routine to Katy Perry's 'Roar!', performed amazingly during the closing ceremony to a hall packed of competitors! A fitting end to an amazing day of competition.
Penny Gittins, who organised Woodlands Meed's participation at the games commented "The Parallel Youth Games is one of the highlights of our sporting year and for me personally is the event that I look forward to most. It is a brilliantly inclusive day that completely epitomises what sport should be about. Many never thought it possible that they would represent their school at such a big event, but every day our students continue to surprise us as they grow in to these increasingly confident, always inspiring young people that we have the pleasure of working with. It is days like today that remind me that I have the best job in the world!".
Read More