Woodlands Meed launches first virtual careers fair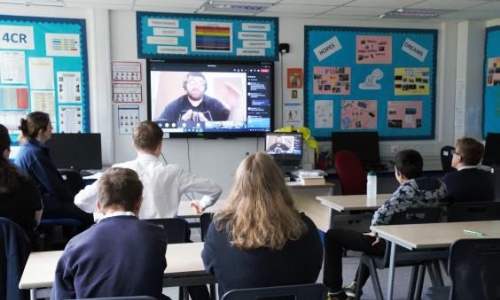 A spectacular week of interactive experiences to inform, educate and celebrate opportunities for young people with SEND
Popular comedian, TV personality and SEND ambassador, Rosie Jones and 'The Greatest Dancer' star, Andrew Self got Woodlands Meed's virtual careers fair off to a dynamic start this week as they appeared on screen across classrooms.
More inspirational talks followed throughout the week from Robert White, Autistic comedian from Britain's Got Talent, Luke Stephenson, a comedian with Tourettes, Joe James, world renowned Autistic Photographer and Chris Bonnello, Autistic author of The Underdogs books and Autisticnotweird.com website.
The event is Woodlands Meed's first virtual careers fair and offered students the chance to hear from a range of inspirational speakers about how they have coped with the challenges of SEND to be able to find the careers they now enjoy. One of the key messages repeated by all the speakers was
"Don't let anything hold you back"
Rosie Jones, talked about her career to date and her new children's book 'The Amazing Edie Eckhart'. She told students about her time at school and how she enjoyed English the most because her teacher always told her she could do better and she wanted to prove him right! Rosie also gave an excellent insight into the comedy circuit. Her advice to students was not to think of the future as a whole because it could be overwhelming, but just focus on the next step. She said after the event
"I loved speaking at the virtual careers fair. It was the most perfect start to my week. I just hope next time we can do it in person! "
Andrew Self, a dancer and model with Down Syndrome answered the pupil's questions about dance and gave a performance which all the students really enjoyed. His message was simple
"If you enjoy something just go for it!"
Autistic Photographer, Joe James talked about photography and his job as a security guard. His key message to the students was - don't let anyone hold your back or tell you your worth.
Actor, Luke Stephenson who has Tourettes, talked about his acting career and the misconceptions around Tourettes that it's not just swearing. He told the students to
"Always believe in yourself! Go out and smash it! "
Chris Bonnello, Autistic author of the Under Dogs series of books, encouraged students to keep their career options open. He also gave them tips on how to prepare for interviews and how to talk about autism in a positive way. He advised the students to 'play to their strengths' and 'to recognise what they are good at'.
Britain's Got Talent contestant, Robert White an Autistic comedian, writer and musician spoke about his diagnosis, and created some short musical numbers for the pupils live online and answered questions about Britain's Got Talent.
Additionally, the week long event also connected the students with local businesses and employers with a series of engaging talks. The students had a chance to hear from a range of local employers about job opportunities and potential career paths available to them as well as ask questions.
Local businesses Albion in the Community, Places for People, Kanwish Designs, Sharpe Cat Printing, Dozy Pheasant Brewing Co, Mother Goose Swim School, Lipstick & Barrel and Nails by Vivienne all took part giving students a broad view of workplaces and what future careers and employment might look like.
Across the UK only 6% of people with SEND are currently employed and in Sussex the statistic is even more shocking with only 2% employed, with over 70% of those who are able wanting to work.
Adam Rowland, Head teacher and his team are passionate about changing this statistic for their students
"We are really excited to offer our students the chance to take part in our first virtual careers fair. Being able to connect with employers, local businesses and to hear inspirational stories from some well known faces like Rosie Jones and Andrew Self has been a unique opportunity to give our students an insight into what the future could hold and hear from speakers who have dealt with some of the challenges our students face. It is a great start in helping to encourage our young people to feel inspired about their own transition and career paths".
"The week has been a fantastic opportunity for us to work collaboratively with local businesses and our SEND advocates to inspire and support our students to think about their future and we will build on this week's success to grow and develop our support of SEND employment opportunities."
The students also heard from some Woodlands Meed Alumni. Carl Morgan, an ex-pupil, spoke about how despite his struggles with reading and writing has set up his own business - Sussex Prestige Cars which is thriving. His key message to the students was it doesn't always have to matter about qualifications, work the hardest you can, go the extra mile and be the best at what you can do.
The feedback and comments from the students was testimony to what many had taken away from the week,
"Rosie's disability hasn't stopped her. I feel like nothing is going to stop me. "
"You can do anything if you put your mind to it "
"You can still succeed even with a disability"
"The way he decided to talk about the way he has autism and that he had challenges to overcome. "
"He was funny and told us funny stories and inspired us to be ourselves and no matter how far our dreams are we can reach it. "
"I learnt that you should never give up if you are being bullied or being called 'not good enough'. Joe James didn't give up, he got up and became more confident in life."
This event is part of Woodlands Meed's focus on supporting young people on their journey to employment and offer a broad range of ideas and success stories of those with SEND who have bucked the trend and built a successful career doing something they enjoy.
To find out more about supporting people with SEND in the workplace, sharing your careers experience with our students or how we can help support your business with SEND work placements please contact careers@woodlandsmeed.co.uk