School Transport driver swaps minibus for motorbike to raise funds for Woodlands Meed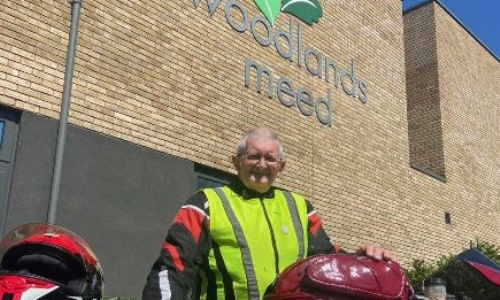 Transport driver, Trevor Moore hasn't let lockdown stop him from raising funds for Woodlands Meed School and College. Despite a fundraising biking tour of his beloved homeland of Northern Ireland being cancelled last year because of Covid, Trevor has continued to raise funds by collecting money at any socially distanced biking events that have been possible over the last few months.
Trevor has a long history of fundraising for local good causes using his bike and vast knowledge of biking events, especially in Ireland. It was through Trevor that Woodlands Meed were nominated as the Triumph Owner Motor Cycle Club's (TOMCC), West Sussex, charity of 2021.
Trevor said 'I am now 75 years old and feel lucky to be able to share my biking experience with other enthusiastic bikers and organizing tours of Ireland by bike is just one of the ways I have raised money for lots of good causes over the years and I'm delighted to be able to now do this for Woodlands Meed. I see every day how fantastic the students I take to and pick up from School and College are and how they benefit from a place like Woodlands Meed.'
Trevor is planning to continue his fundraising in August by taking a group of keen bikers on a Northern Ireland tour, sharing his vast local knowledge and expertise. If you would like to join Trevor and friends on the tour get in touch with Trevor on 07592609093.