Table Cricket: The schools Invincible KS3 table cricket team take the title!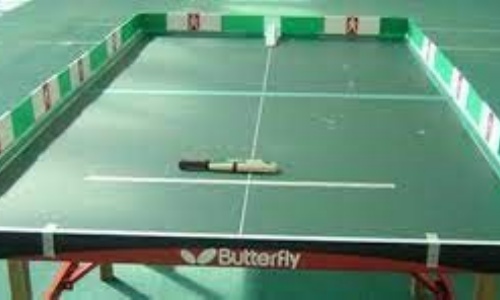 On the 16th February, our ks3 cricketers represented our School Site at the annual table cricket competition at The County Ground in Hove, home of Sussex Cricket.
Our students arrived at the County ground in Hove, home of Sussex County Cricket club, full of excitement and keen to do well in the day's activities. The competition was made up of four strong teams; two from Woodlands Meed including students from KS3 and KS5, as well as two teams from Manor Green College.
Match one saw our KS3 team take on Manor Green College team A. The match was played in great spirit, with both teams encouraging one another. This teamwork led to Woodlands Meed winning the first match, outscoring their opponents by 10 runs.
Match 2 was the battle of Woodlands Meed, seeing our school and college teams go head to head. Again both teams played with great enthusiasm and showed real respect for eachother. The school team took the win narrowly outscoring the college by 5 runs!
With one final match to go and knowing a win would secure the title, the school team were positive about achieving the victory they needed.
The final match was played against Manor Green colleges team B. The excellent attitude of all who took part continued throughout the whole day, and we were treated to another excellent contest. Woodlands Meed delivered a fabulous all round team performance to win their final match by 15 runs.
With the final matches played and the results in, our school team finished the tournament unbeaten, scoring an amazing 809 runs in total for the day and were crowned champions!
All the staff were so impressed with the students attitude, behaviour and positivity. They all demonstrated great communication, perseverance, independence and teamwork skills. We need to mention our two sports' leaders, who were brilliant in their roles as scorers and umpires. The students can be immensely proud of themselves and we certainly are. They were a credit to the school and each other.
All going well the team will now be entered into the regional finals where if they can continue their success and win, would progress to the national finals which are held at the home of cricket Lords.
Once again I cannot speak high enough of our students they were and are fabulous!!