Triumph Owners Motorcycle Club raise funds for Woodlands Meed ​​​​​​​​​​​​​​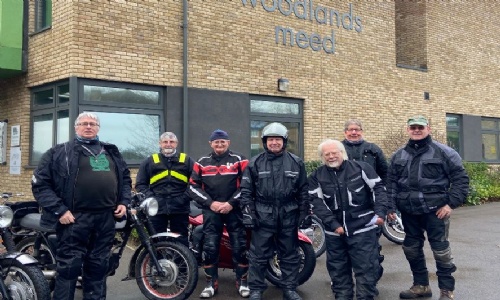 After being nominated by one of our transport drivers, Woodlands Meed were delighted to be presented with a cheque for £1000 this week, for fundraising the The Triumph Owners Motorcycle Club West Sussex (TOMCC), achieved in 2021 despite a much reduced program of usual events due to Covid for the charitable bikers.
TOMCC Chairman, Andy Phillips said 'We are delighted to support another local charity and we know our donation will make a difference at Woodlands Meed.'
Headteacher Adam Rowland added, 'we are very grateful for the fantastic fundraising efforts from the TOMCC, it is an amazing achievement and will make a considerable difference to our pupils at Woodlands Meed.'
Transport driver, Trevor Moore, has a long history of fundraising for local good causes using his bike and vast knowledge of biking events, especially in Ireland. It was through Trevor that Woodlands Meed were nominated as the Triumph Owner Motor Cycle Club's (TOMCC), West Sussex, charity of 2021.