School Games Gold Award secured again for Woodlands Meed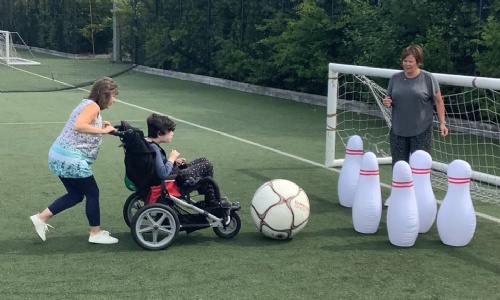 Woodlands Meed have achieved the School Games Gold Award again for the academic year 2022. They have consistently achieved the award for the last three years and are so proud of all the staff and students who have contributed to this success.
This year there were different criteria that had to be met to retain the award. Included were participation in PE sessions/extracurricular sessions like active 30, intra events (within school), inter events (against other schools) – such as the Parallel Youth Games, Table cricket as well as the inclusiveness of PE, targeted students receiving more opportunities, student voice, opportunities for sports' leaders, sharing achievements.
Sports Leader, Penny Gittins is understandably delighted with this achievement, she commented. 'I am fantastically proud of the PE and sporting opportunities we provide at Woodlands Meed. The students have definitely benefitted from the opportunities they now have. Parents are equally proud, and have told me that they never thought their child would have the opportunity to represent the school, or maybe they would find it difficult to access it, but our students continue to surprise us! We had over 40 staff and students attend the Parallel Youth Games, some of our targeted students progressed to the regionals of the table cricket competition which is the first time in our history, all students accessed one of our three inclusive sports days, the whole of year 8 participated in bike ability, and we have had the best and most inclusive Sports' leaders sessions which included 10 weeks with JOLF, 5 weeks with BH Academy, and three weeks with students from Bhasvic. What's particularly amazing to me is to see the impact all the sporting opportunity has made when our sports leaders were then able to apply what they had learnt by running stations at sports day, and two of our students did the scoring at regional table cricket competition!'