Woodlands Meed Artists exhibit at Haywards Heath Arts Festival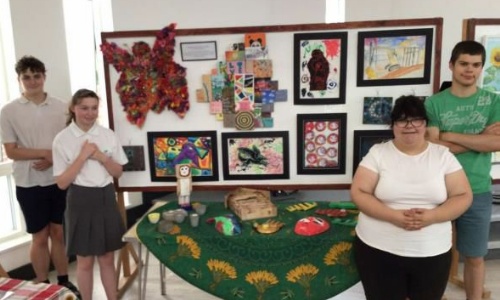 Talented pupils at Woodlands Meed took part in Haywards Heath's first ever Arts Festival in July. The festival took part in various locations across the town offering a variety of events provided by local people as well as nationally recognised artists. The festival was sponsored by 'It's Magic' and raised money for Ukraine through donations and ticket sales for the activities.
Woodlands Meed artists were delighted to be asked to take part and worked hard on some creative pieces which they displayed as part of the art installation in Haywards Heath Baptist Church, as well as putting together the display itself and hanging the art work.
Allan Mayes from Woodlands Meed said 'Art is accessible for all students at Woodlands Meed. We provide opportunities for everyone to experiment using a wide range of media and techniques, to experience different processes and create pieces of art with confidence and enjoyment in a safe and stimulating environment. We hope you enjoyed our display.'