Meeds Job Club exhibit at Sussex Expo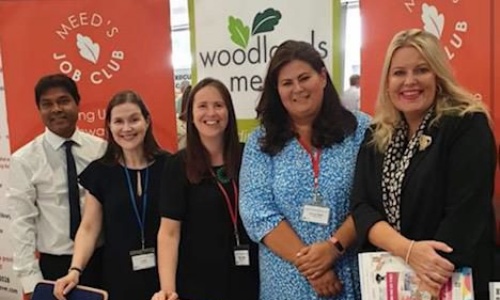 The Meeds Job Club were delighted to have an exhibition stand at the Sussex Chamber Business Expo on Friday 15th July.
The event was held at The Kings Church, Burgess Hill, located in the heart of Burgess Hill's Business Park and was opened by Mims Davis MP. With over fifty exhibitors and over two hundred delegates attending, the inaugural event was an exciting and engaging opportunity for local business networking.
The event provided The MJC an excellent opportunity to showcase the work they do and the circle of support they offer to help businesses with Inclusivity training, workplace help and advice for becoming a more inclusive employer.
The MJC talked to lots of delegates about the opportunities to get involved with Woodlands Meed to offer work experience placements and workplace visits to our students. Mims Davis MP also visited the stand. Alex Watts, Employer & Community Engagement Lead at the MJC said 'The positive response and interest in Woodlands Meed was fantastic and we hope to be able to develop relationships going forward with the enthusiastic delegates we talked to who were interested in the work we are doing around inclusivity and getting people with disabilities experiences of work and the work environment and ultimately employment. What is really encouraging is so many delegates we talked to approached us with questions about disability employment, rather than us having to make the case to consider it.'