Transition
Meed's Job Club offers a blended approach to preparing our young people for transition throughout the year. This includes in person visits/interactions or virtual Q&A sessions with:
Further Education Colleges
Training Providers
Day Centre Services
We continue to track our students after they have left us and a breakdown of their post Woodlands Meed destinations. For further information on the data Woodlands Meed collects, including why we collect this data, please refer to our privacy notice
Leaver Destinations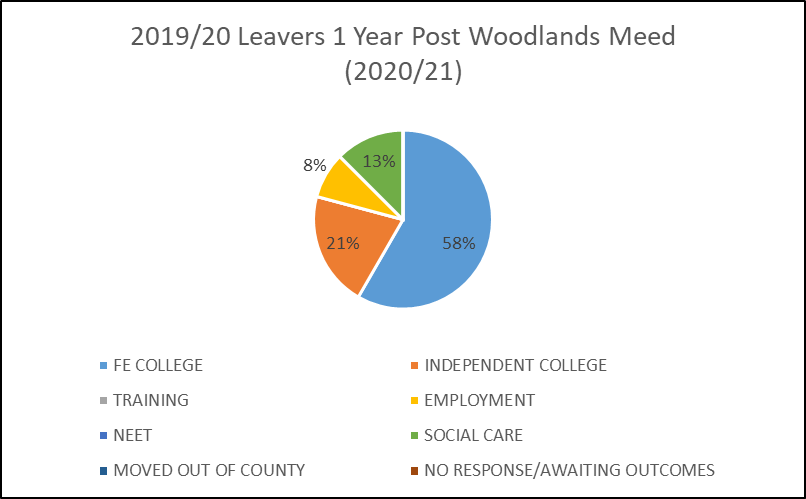 Leavers Destinations
Every student (100%) who left Woodlands Meed in 20/21 went into education, employment or social care. No students were NEET (Not in education, employment or training) and 2 students (8%) went in to employment. In relation to the two individuals moving into employment; both were supported by the Meed's Job Club.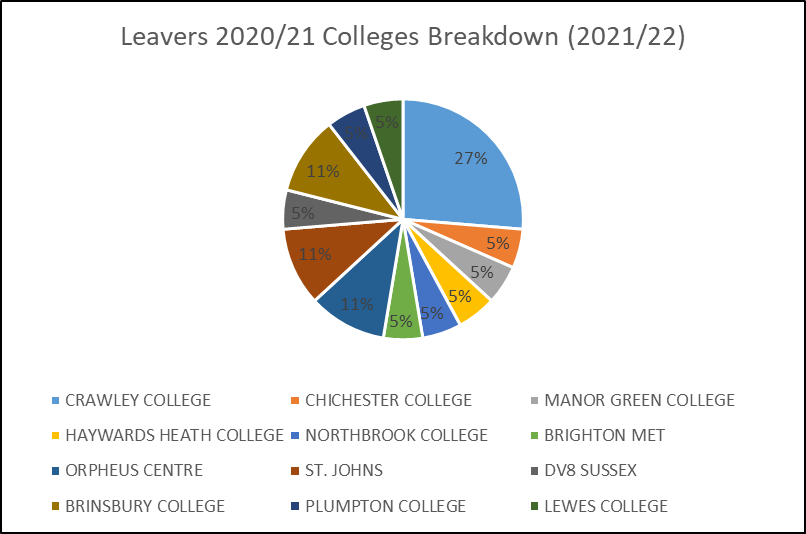 Colleges Breakdown
This year saw a wide and varied range of destinations with Crawley College being the most popular choice with over 25% of students choosing this destination.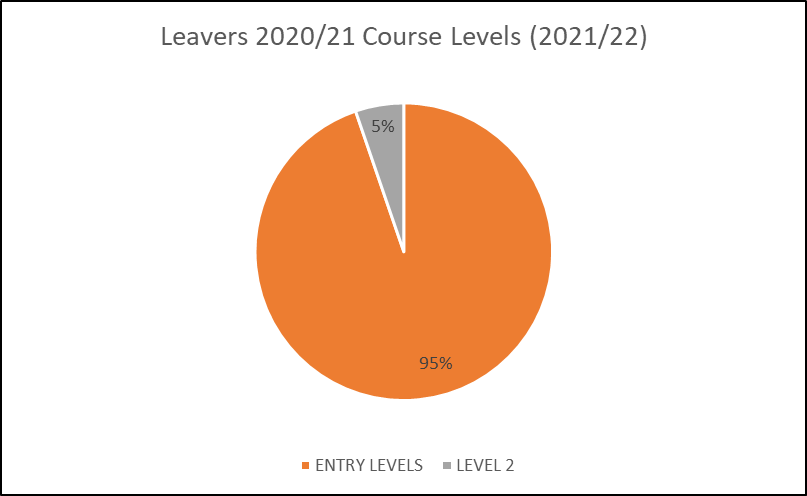 Course Levels
The vast majority (95%) of students went on to study at entry level with the remaining 5% moving on to study at level 2.
Level 2 Course: Media Production at DV8 Sussex.
Covid-19 Impact
Covid-19 did not affect the collection of destinations for this cohort.
Careers Pathways
Throughout their careers learning students have access to information about the different pathways available to them after they leave Woodlands Meed. The Careers and Enterprise Company has identified two pathways to the work place for SEND students.
Careers Pathway One
Pathway one is for those who do not typically take GCSEs
Careers Pathway Two
Pathway two is for those students who follow the GCSE route
Access to Work
Access to Work is a UK Government initiative that provides advice and practical support to the disabled who are employed, self employed or unemployed and about to start a job or work scheme. Jobs can be part-time or full-time or temporary or permanent. To find out more information please click here